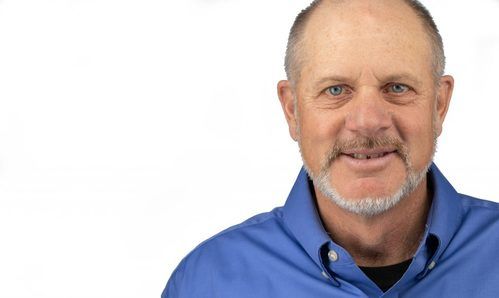 Dave Adams spent 30 years in his first career as a farmer, where he first learned the Gospel message. Born in Woodstock, Illinois in 1955, Dave worked from age 10 with his father and brothers on a family farm. Dave and his wife, Pat were married in March of 1977. Dave, Pat, and their four children started attending Mt Zion in 1988. They became involved in children's ministry, the high school youth group, and serving as an elder. They sold the cattle and machinery in 1996, and he came on staff at Mt Zion in 1997 as Associate Pastor. Dave became Senior Pastor of Mt. Zion in 2006. Pastor Dave and Pat live in Lake Geneva, WI. They have four children and eight grandchildren. When he has the chance he enjoys riding his Harley-Davidson and fishing. Dave and Pat enjoyed the trip of a lifetime to Israel in 2013.
Executive Pastor: Operations
Stephen Thorngate came on staff part time at Mt. Zion in 1986 as worship leader. As the church has grown, his responsibilities have expanded. For many years he served as full-time minister of music; with the help of his wife, Lisa, he led worship each week, directed choirs, and wrote and produced musical dramas. He also taught music and sometimes other classes at Mt. Zion Christian School. More recently as executive pastor, he leads Mt. Zion's men's ministry. He also represents Mt. Zion's elder board on several subcommittees, serving to connect the leadership of the church's many areas of ministry.
Pastor Steve grew up in Pebble Beach, CA. He came to Wisconsin for college and has been here ever since. He taught vocal music in Waterford, WI, for 14 years before beginning full-time ministry. He and Lisa have been married since 1974 and have seven grown children.


Executive Pastor: Communications
Matt grew up in the Upper Peninsula of Michigan and moved to Wisconsin after meeting his wife doing mission work in Denmark. Matt and Audrie got married in 2006 and began attending Mt. Zion in 2007. They have 4 children; Evangeline (Evie), Noelle (Ellie), Elijah and Eden. After a year and a half of interning with our pastors, Matt came on staff full-time in 2016.
Matt has a background in management and administration and ran operations of retail prescription drug stores for many years. He has a bachelor's degree in Biblical Studies and a master's degree in Biblical Studies and Biblical languages from Trinity Theological Seminary. He is currently working on his doctorate at Covenant Theological Seminary. Matt enjoys spending time with his family, reading books, drinking coffee, and having conversations about the Bible and theology. He is passionate about exalting the name of Jesus through praise and worship at Mt. Zion.
Pastor Riley Sampson was born and raised in Minnesota. God called him to become a youth pastor at summer camp before he entered 7th grade. That call led him to North Central University where he met his wife Casey and graduated with a bachelor's degree in Youth Ministry. After graduation, he and his wife spent three years as youth pastors in Springfield, IL working with junior and senior high students. While they were serving in Springfield, God began to stir their hearts calling them home to Mt. Zion, Casey's home church.
Riley and Casey have a passion to see young people discipled and taught to realize their potential to know and be used by God. They believe that God is raising up a generation of students that will not bow to the culture, but that will stand up and be the light of the world. Riley and Casey have been married since 2011 and have three daughters named Selah, Shiloh, and Hadassah.
Bo Boilek joined the staff of the Zion House in May of 2013. He is a graduate of the Mt. Zion House program as well as a former graduate assistant from 2006-2009. In 2009 Bo attended the Moody Bible Institute in Chicago, IL and graduated in May of 2013 with a Bachelor of Art degree having an emphasis on Pastoral Studies and Bible. Bo also has NIC-T4C Certification, 2013. He brings to our program years of experience with this ministry. Bo married his beautiful bride Denay in late August of 2013.
Elizabeth has been with Mt. Zion Christian School since 2012 and has been equipping students with a culture of learning where they grow in the love of God expressed through music and apply those skills in ministry to glorify God. Elizabeth joined the staff at Mt. Zion Christian Church in 2020 as the Office Manager. She and her husband, Doug, delight in spending time with their kids; making music, hiking, camping, or playing games.
In the Summer of 2018 Stacy joined our staff at Mt. Zion as the new Children's Directors. Along with her husband Dave, this dynamic duo has served together in various student ministries and have been married since 2000. They have a son named Jeremiah. Both are passionate about encouraging and partnering with parents as the primary faith providers for their children.
About Stacy: She is always singing. She loves Kenya missions and supporting foster/adoptive families. She smells like essential oils.
About Dave: He's always building and creating something. He loves his family. Coffee is his favorite.
Hispanic Ministry Interim Pastor
Pedro Pereyra was born in Mexico City, from a young age he heard of the gospel and at the age of 20 made his decision to follow Christ. In his youth, he received God's call to serve him. Pedro and his wife Maru, got married in 1990 and have since served God in different places in Mexico. They have 3 children: Pedro, Isaac and Mia. For many years he has been Minister of Praise and Worship, in addition to preaching the word of God and serving as associate pastor. God opened the doors for them to arrive in Wisconsin in December 2018 and they joined Mount Zion to support the Hispanic ministry in the music ministry and pastorate. Pedro and Maru greatly enjoy worshipping God and like to encourage people to truly know Jesus Christ, to live a practical Christian life and grow in holiness, integrity, and family unity.

Pedro Pereyra nació en la ciudad de México, desde pequeño escuchó del evangelio y a los 20 años tomó su decisión de seguir a Cristo. Desde joven tiene el llamado de Dios para servirle. Pedro y su esposa Maru, se casaron en 1990 y desde entonces han servido a Dios en diferentes lugares de México. Tienen 3 hijos: Pedro, Isaac y Mia. Por muchos años ha sido ministro de Alabanza y Adoración, además de predicar la palabra de Dios y desempeñarse como pastor asociado. Dios abrió las puertas para que en diciembre del 2018 llegaran a Wisconsin y se unieron a Monte Sion para apoyar al grupo hispano en la alabanza y el pastorado. Pedro y Maru disfrutan mucho la adoración a Dios y les gusta animar a la gente a conocer verdaderamente a Jesucristo para vivir una vida cristiana práctica y crecer en santidad, integridad y unidad familiar.
Christine Smith was raised in Burlington, Wisconsin, and graduated from what is now Catholic Central High School. She earned an associate degree in accounting and another in data processing from Gateway Technical College.
Chris has been working with the finances of Mt. Zion Christian Church, Mt. Zion Christian School and Mt. Zion House since 2003. She also provides human resource management and coordinates Mt. Zion's food pantry ministry. She and her husband Scott serve as church deacons.
Scott and Chris have six grown children, four of whom are married. All are graduates of Mt. Zion Christian School. They feel very blessed and give thanks to the Lord for their family.
Outside of work time, Chris enjoys bike riding, gardening, and preparing food with and for her family. Bible study, quilting and crosswords are also some of her favorite activities. Chris is an enthusiastic fan of the Milwaukee Brewers and the Green Bay Packers.
Kyle is new to the Mt. Zion staff, he has served as a worship leader and youth associate since September of 2019. Before this he had been interning with Pastor Matt since summer of 2015. Kyle has attended Mt. Zion since he was 8 years old and the church has been able to watch him grow over the years into the position God has called him to now. Before this he had been a part of Mt. Zion youth group for two years. Kyle is currently going to school to get his graduate certificate in Worship Arts and a bachelors degree in Biblical Studies.
Graphics Designer & Social Media
Erin grew up in the country town of Lee in northern Illinois. After graduating from Taylor University with a B.S. in Professional Writing, she met her husband, Frank. They got married in 2019, moved to Wisconsin, and started attending Mt. Zion in July of 2020. Their first child is on the way! Erin loves reading books and writing, baking/cooking, outdoor activities like kayaking, and studying the Bible. She feels blessed to serve God at Mt. Zion with her background in communications.
First Impressions Team Coordinator
Casey grew up attending Mt. Zion. She went to Mt. Zion Christian School for 5th-8th grade. Casey attended North Central University where she received a Bachelor of Arts in Worship Arts – Theater. After graduation, she and her husband, Riley, ministered in Springfield, IL for three years in their youth department. In 2016 God brought Casey and Riley back to Mt. Zion. She is a mother to three girls; Selah, Shiloh, and Hadassah. In her free time, Casey enjoys volunteering with the youth group or creating art for her handmade business.
Mt. Zion House Assistant Pastor/ Jail Chaplain
Chaplain Larry Hansen has been a part of the body at Mt. Zion for many years. He works in the Jails of Walworth and McHenry Counties to bring hope to the inmates. He is an asset to the Mt. Zion House staff as he brings a knowledge and love for people in need.
Tim has been in charge of outside maintenance at Mt. Zion since 2010. In 2020 he became the building engineer in charge of the maintenance staff. This is a job he is well qualified for, having been the building engineer for three large buildings in the Chicago area.

Tim grew up in Texas, northern Wisconsin and Riverside, Illinois. He and his wife Jackie have four grown children. His son Josh works alongside him.
Bob grew up in Hebron, Illinois, home of Crandall's, with his three brothers. He now lives in Springfield, works three jobs, and loves being at Mt. Zion, where he is the head of maintenance. Bob has no children of his own but adores the church and school children, despite the messes they make. The children love, "Mr. Bob" as well.